Create a distinctive stain glass design to dress up your home.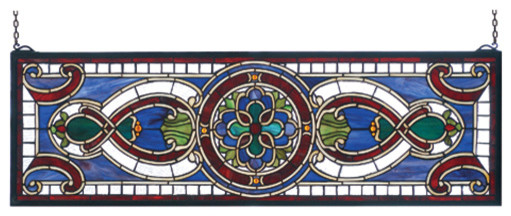 Stained-glass have been admired for their utility and beauty since ancient Rome, when pieces of colored glass were assembled into patterned window frames .Its such an interesting art form. The way the colored glass captures the light can be quite magical , there are endless applications of stained glass in a home.
A perfect complement to this wine-tasting room, these stained glass windows look like the bottom of wine bottles in various shades of green opaque glass.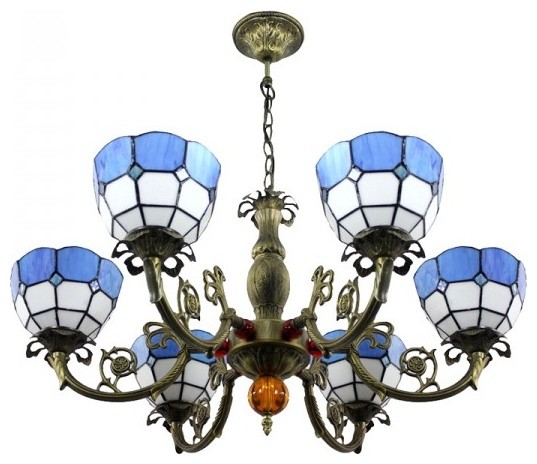 Blue and white stained glass Tiffany Chandelier .
The satined glass window adds a character and maintains privicy in kitchen .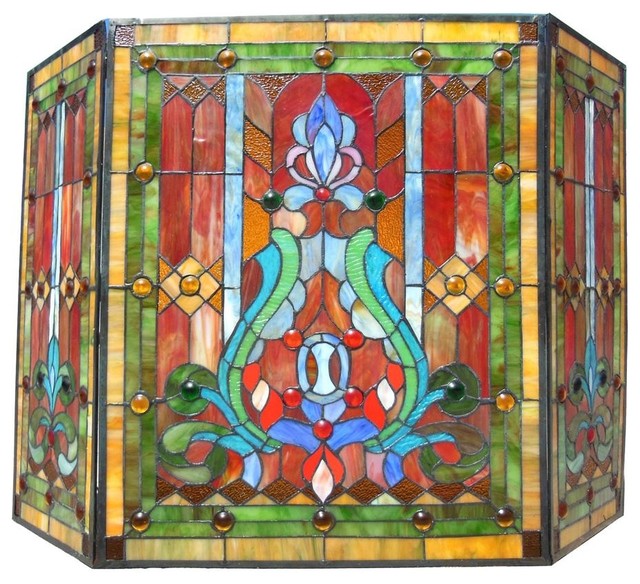 This elegant, Tiffany-style fireplace screen is a classic Victorian design. A welcome addition to any home decor, the screen is created from pieces of stained art glass and features cheerful shades of green, gold, orange and beige.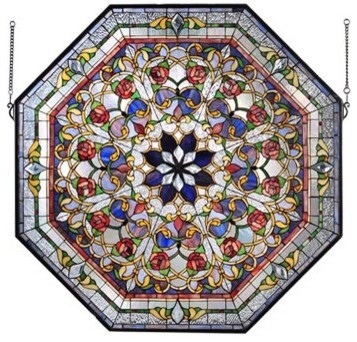 Medya Tiffany front hall floral medallion stained
glass .
Another beautiful use of stained glass .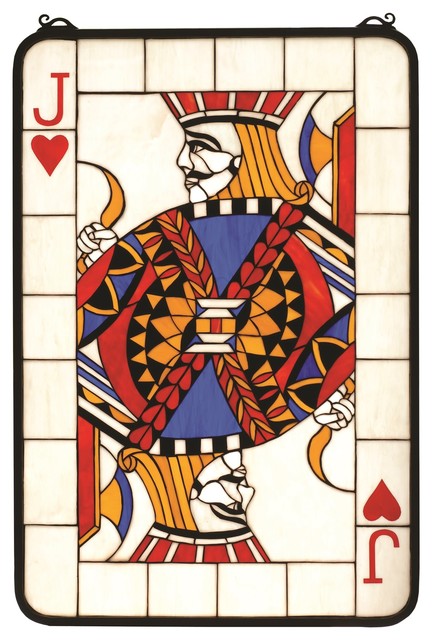 From the Jacks-Are-Wild Collection, this Meyda Tiffany stained glass window is a charming and whimsical addition to any home decor scheme. Ideal for windows or for wall decor, this eye-catching design features the Jack of Hearts with appropriate coloring and details that are sure to please.

One of Tiffany Studio's most beloved designs, Dragonflies dive and circle with glowing Scarlet jeweled eyes and delicate metal filigreed emerald wings circle over hand cut and copper foiled pieces of Blue and Green water-like rippled glass over a Sunset colored art glass accented with colorful jewel dew drops. The stunning shade is shown on a hand finished Dark Bronze Acanthus leafed two light floor lamp base.
stained glass tree pattern for main entrance .

Meyda Tiffany's three piece window is an original masterpiece inspired by the work of Mackintosh the Glasgow School of Art, and incorporating art nouveau styling's. Reminiscent of Provence, this Golden sunflower and budding vines set atop a sky of Granite Aubergine colored glass with Moss Green accents is handcrafted with copper foil construction process and400 pieces of stained art glass encased in a solid brass frame, each window is a unique creation.
Stained glass windows are great for bathrooms because they let in light but afford privacy when you need it. No need for window treatments in this great bathroom.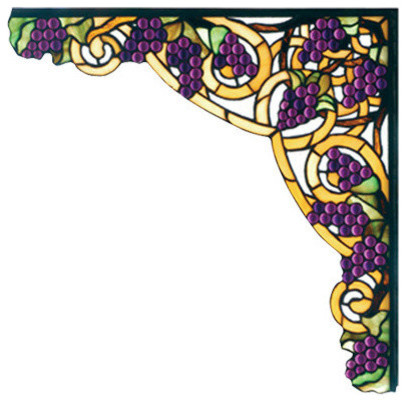 Radiant Concord Purple jewels, Vineyard Green leaves and glistening dew kissed Bark Brown vines wrap around Golden Sunshine bands on a diamond grid of Clear seeded glass. Bring sunny vineyards to your own home with this lovely Meyda Tiffany original stained glass corner bracket, made with 153 pieces of hand cut stained glass and 86 jewels.
The stained glass window in this stately room provides beautiful filtered light and privacy for the window seat. A great option for privacy needs, stained glass is beautiful and practical.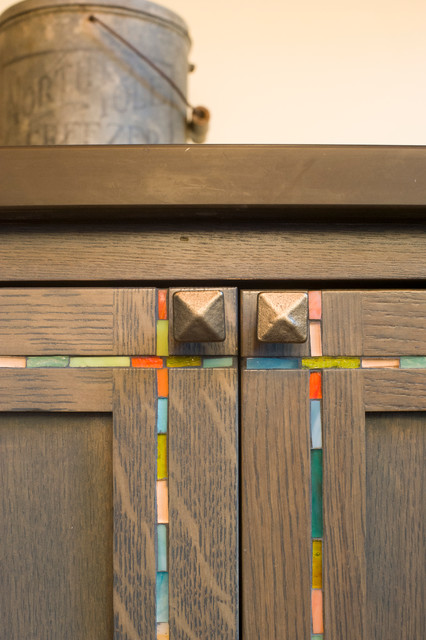 Interesting design customization , grooves cut in the cabinet filled with stained glass .
Very beautiful stained glass window pattern that matches the waal hanging .
what a beautiful bathroom door with detailed stained glass work . A stunning piece of work .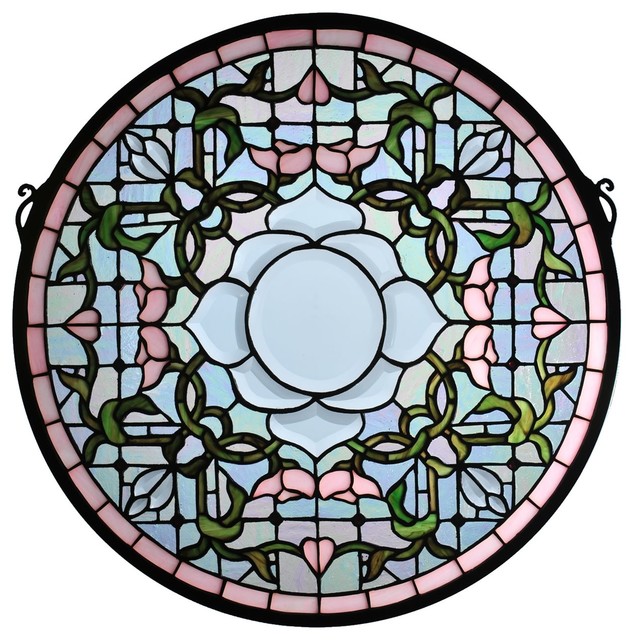 This Meyda Tiffany stained glass Tiffany window features a classic medallion shape and soft tones and colors that create a beautiful feminine appeal. The soft shades of pale blue are complimented by light pinks and deep greens, which work together to highlight the botanical elements of this design. A large floral center in pale blue draws the eye in.
this stained glass sky light looks stunning , adds character to the room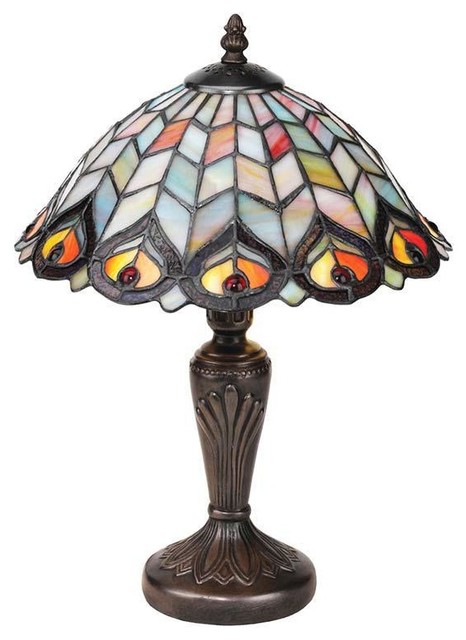 A dozen cabochons accent the spread of stylized peacock feathers that artistically fan to create this incredible, Tiffany-style stained glass lamp. A quality designer resin base hand-finished in French bronze rises toward the magnificent shade boasting more than 200 pieces of vibrant, authentic art glass. At nearly a foot-and-a-half tall, this artisan work casts the perfect glow at a small desk or entry table.
● How was the post ?